Hospital History:
The beginning was in 1998 where it was the first specialized hospital in Alexandria in the field of Gynecology, Obstetrics, Children, Laparoscopy, Infertility Treatment and ICSI by a group of professional doctors who transfer their medical experiences to build this distinguished medical organization to be a model of medical progress and care.
In 2004, it was the first expansion to accommodate more cases and included many professors and skilled doctors in the field of women and Obstetrics and Gynecology and other surgical specialties such as Plastic surgery, Bariatric surgery, Laparoscopy surgeries and Pediatric surgeries.

In 2014, Alex Specialized Hospital was expanded to become one of the largest hospitals in the north of Egypt. The operation rooms were upgraded to 6 major operation rooms equipped with international standards. Also, a intensive care unit equipped with the highest medical equipment and a Neonate unit with 20 incubators.
Our Mission:
We Alex Specialized Hospital provide the highest level of medical care in: obstetrics, gynecology, infertility, laparoscopy, general surgery, plastic surgery, bariatric surgery, pediatric surgery and fetal medicine. Our team includes eminent professors, consultants and specialist with the highest character and greatest skills. We are on constant communication with universities and healthcare institution all over the world. We use best facilities and amenities that promote the highest quality care in accordance to the international standards .We are committed is to provide the best nursing services with the highest standard of hospitality for each of our patients and their families. We aim to serve more people inside and outside Alexandria.
Degrees & Rooms of the hospital: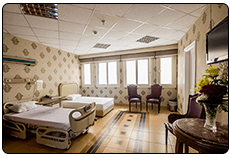 Royal Suite
| | |
| --- | --- |
| | Comfortable accommodation suite with a seperate salon for visitors |
| | Fully Electric Japanese Bed |
| | Bed for Accompanying Person |
| | Minibar |
| | 2 LCD Screen |
| | Free internet access |
| | 2 Air Conditioners |
| | Private Bathroom |
About hospital:
Address:
12 Roshdy St., Intersection Of Abdel Hamid El Abbady St., Roushdy area, Alexandria