Hospital History:

The beginning was at 1998 where it was the first specialized hospital in Alexandria in the field of Gynecology, Obstetrics, Children, Laparoscopy, Infertility Treatment ...

Obstetrics and Gynecology:

​Obstetrics and Gynecology Department aims to provide high quality and appropriate services to all patients. We provide excellent antenatal, postnatal and gynecological care ...

Cosmetic Surgeries:

Plastic Surgery is a very diverse field and includes the following: hand surgery, burn care, facial trauma, post cancer and post trauma reconstruction, breast surgery, genitourinary reconstruction ...

Pediatrics:

We work closely with other departments within Alex Specialized Hospital, particularly pediatric ENT (Ear, Nose and Throat), pediatric orthopedic patients, the department of obstetrics and gynecology ...

Intensive Care Unit:

​​Our Intensive Care Unit (ICU) is a specialized section of Alex Specialized Hospital providing comprehensive and continuous care for patients who are critically ill or in an unstable condition ...

Lab:

​Alex Specialized Hospital provides a wide variety of laboratory testing, which guarantees that all testing necessary to understand what is going on in the body physiologically ...
Degrees & Rooms of the hospital: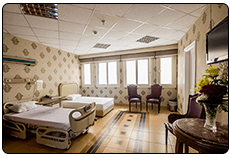 Royal Suite
| | |
| --- | --- |
| | Comfortable accommodation suite with a seperate salon for visitors |
| | Fully Electric Japanese Bed |
| | Bed for Accompanying Person |
| | Minibar |
| | 2 LCD Screen |
| | Free internet access |
| | 2 Air Conditioners |
| | Private Bathroom |
About hospital:
Address:
12 Roshdy St., Intersection Of Abdel Hamid El Abbady St., Roushdy area, Alexandria